This blog article is especially for employers which post jobs on Rooster's job board. Before posting a job, you might be writing down the job duties, the skills needed and the budgeted salary for the position. This document is called the 'job description' and writing a compelling one will increase your chances of attracting potential candidates and fasten your hiring process.
The Structure
When writing a job description we recommend that you add your details in the following order to give more clarity to the candidates who are applying.
A brief explanation of the job – Provide a description of what the job is about, where the candidates will be placed and the team to work with etc.
Key Roles/ Responsibilities – Mention the key tasks of the job and make it as clear and informative as possible. You can add bullet points for each responsibility like in the example below.
Required Qualifications/ Skills – Here you can mention the skills and qualifications that are needed to perform the job role. You can also mention the years of past experience you are looking for. Again add bullet points when listing the requirements.
Now, let's take a look at a good example of a job description written for the position of Digital Marketing Manager. There is a clear structure to this job description where each section is divided with subheadings such as Responsibilities and Requirements.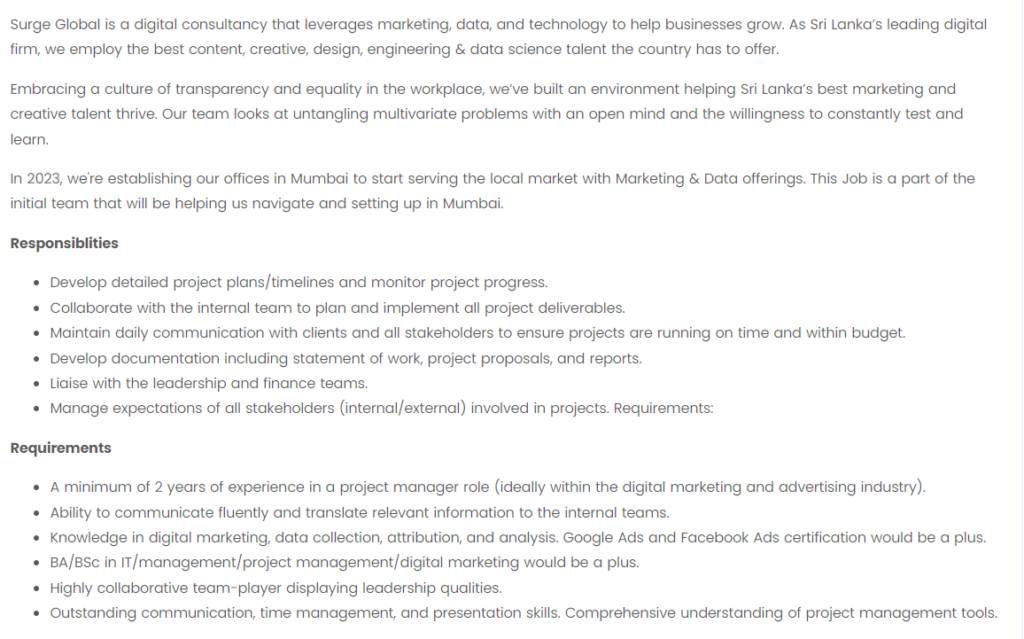 And let's look at a poorly written example of a job description written for the position of Telecaller. You can see there are no separate sections dividing the responsibilities and the requirements and the description is vague and too short.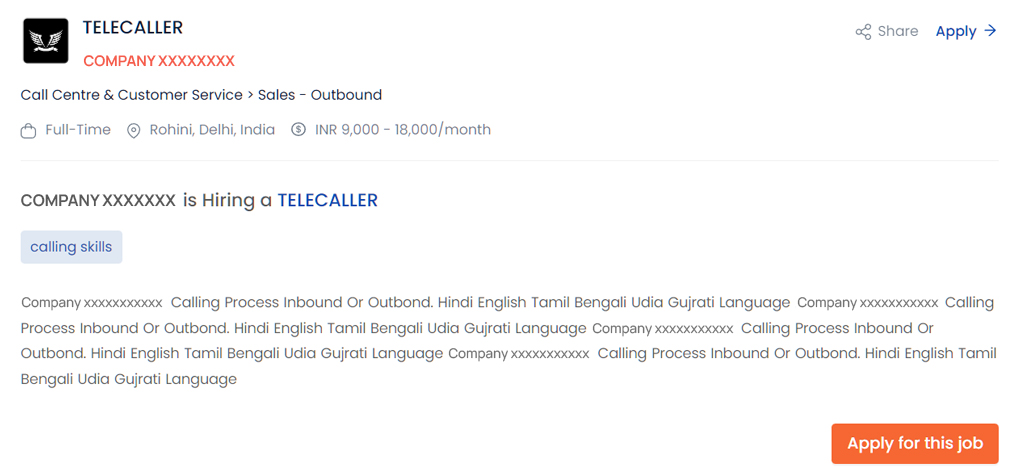 Other Important Tips
Add the salary details (optional) to increase the likelihood of attracting more candidates. Adding salary details will show the transparency of your company.
Do a grammar and spell check before publishing the job post.
You can also add the skills separately when creating the job post. This will help to match candidates with similar skills in the hunt pool when you use the 'Headhunting' feature.